It can be daunting to wrap your head around a national statistic about Alzheimer's Disease and Related Dementias (ADRD) when those stats on death include your family. Although their deaths occurred in 2016 and 2018, my parents are a part of these rising projections, particularly for African-Americans. According to the Alzheimer's Association and the Alzheimer's Disease Research Center: "Compared to whites, African-Americans are twice as likely, and Latinos 1.5 times as likely to develop Alzheimer's."
Dr. Mary Guerriero Austrom (pictured above) is a professor, researcher, and the associate dean of diversity affairs at Indiana University School of Medicine where she works to recruit minorities and others to participate in Alzheimer's disease studies and clinical trials. The number of people of color participating in studies and trials has been so low that it is nearly impossible to know if the findings are even applicable to minorities. I spoke with Dr. Austrom about the success of their outreach focus on minority recruitment. She has a very direct way of stating what the barriers are to engaging people of color in research. She provides practical down-to-earth approaches gleaned over many years of practicing what she preaches.
Interview is Edited for Length
Q: What drew you to the field of Alzheimer's as a focus for disease education?
Dr. Mary Guerriero Austrom, PhD – I like to say that Alzheimer's Disease found me. I'm a teacher by training so education was always my passion. And, I think it was being at the right place at the right time when I met my mentors of the day. We applied for and successfully got an Alzheimer's Disease Research Center, from a NIH (grant), that is 28 years (ago). One of the roles was an Outreach and Education core. As an educator, that became my area. And then, amazingly enough, a very grateful patient's family endowed my role. I am the Wesley P. Martin Professor of Alzheimer's Disease Education – as far as we know that may still be the only such endowed professorship that deals specifically with outreach and education and helping caregivers. So, it's really a unique position and we are very grateful to the Martin family for endowing that.
You've talked about how you do outreach to the community, the Community Advisory Board (CAB), the outreach video, and a lot of TLC. Since you are recruiting more African-Americans and Latinos to the Center, how is this impacting your studies?
Dr. Mary Guerriero Austrom – Well, you know they are ongoing studies. The Alzheimer's Disease Center itself, the clinical core is really an observational trial where we follow these patients, from I like to say, soup to nuts, i.e., from diagnosis to death and post mortem. The big results aren't there yet; this will just continue and continue. In terms of what this (more minorities recruited for the studies) has done for our center – it's diversified our subject pool which tremendously strengthens any results and generalizations we want to make. And, it just keeps building community. Our CAB is so well integrated into our work and our roles now at the Center, and their roles, they're such a pivotal important part. What I see is a synergistic effect of excitement growing around it, and the more we are in the community the more we are welcomed. One thing I do want to stress is that our model has been the Community-Based Participatory Research Model.
We start with the CAB and their input: We brainstorm – We want to look at this (issue). How do we go about it? Where do we start? What do you guys think? If it's truly a partnership and truly participatory research and I'm seeing this, the CAB has become, and they're volunteers to boot, this real extension of our work. You know, I've got Mollie and Ralph Richards out there. They're our base. They're meeting regularly in the community. We get invited into other spaces in the minority community and to different faith communities because of them. It's truly a partnership. It can't be understated. They are bringing in volunteer names and Mollie tracks all the activities, the places she is, all the dates and times that the people come in, very much like our staff does.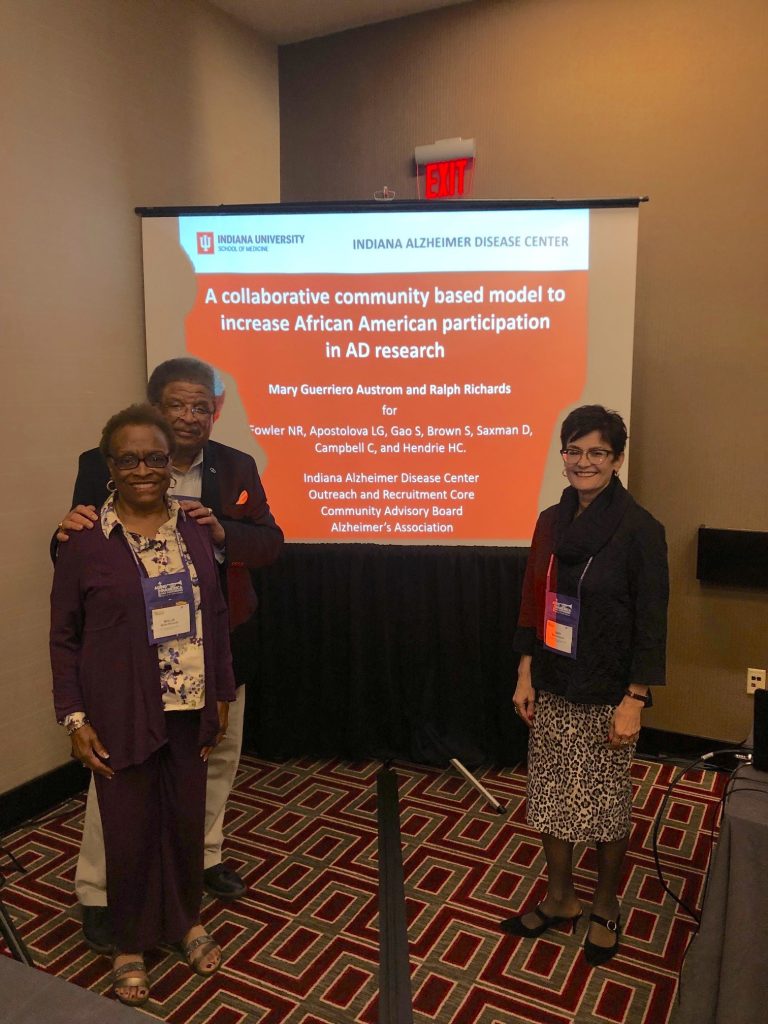 We've increased our representation in the community with the help of the CAB: (There are members of the CAB that are elder law attorneys and many other active participants.) It really makes a difference having our advisors of color talking to the communities of color. It really makes a difference when you come with people who look like them. We've been fortunate that our director, Dr. Saykin, successfully hired our first full time African-American recruiter. We've been doing this with our volunteers and now Ms. Malaika Brown has joined us. We're able to demonstrate the importance of hiring from the community to represent the community. This is really, really working. It doesn't just happen, the commitment on both sides, the trust on both sides. It's 100% necessary.
It sounds like the fact that you have a participatory model where you are saying to the community, we need you, this is not something we can do ourselves, shows the community a high level of trust that you may have for them.
Dr. Mary Guerriero Austrom – We need to do it together or no one is going to benefit. We need each other to get to the next level. If we identify populations for studies, now what? We need to let them know we are here for you; we've got to get you in. It's a huge commitment of time, talent and resources.
Committed Researcher vs. Fly-By Researcher: It's what never ceases to amaze me when people say it (recruiting minorities) just doesn't work. If you don't put the time and effort in, it won't work. You really have to throw yourself into it and commit to it. If you don't, it's really best to leave the community alone. I think charging in and starting something, not thanking them, not going back with results, you build momentum and then you dash it. We're better off not going in then doing it, excuse my French, half-assed. It's perfectly fine to say we screwed that one up; it didn't work as well as we thought; and you go in and say how can we do this better or different; what went wrong; how do we learn from this? Somebody, I don't know who, called it a fly-by researcher – Go in, beg their help, collect the data, then you're never seen again. Those poor people are left wondering, "Well, what the hell happened to Dr. Smith?!"
Working Together to Get the Word Out: We're presenting our project on working in the minority community at the American Society on Aging in April. We worked on the slides with the CAB, and Ralph, my CAB co-chair, is presenting with me. This is how strongly we feel. We took Ralph and Mollie to a national meeting on minority recruitment at Washington University in the fall, because they're the ones in the community working with us. They're the ones who need to hear this, more so than my research students and trainees. They kind of get it. We need to show the community how important they are to us. And I publish with them. If we submit an abstract, my advisory board is acknowledged. It's not just MD and PhD researchers, but everybody's got something to give here. A lot of health education happens at the parishes, churches, congregations of the faith community (in collaboration with) their pastors, leaders, health ministries, missions, home bound and shut-in ministries. It's the faith community that finds the people in need before the physicians do.
What role does caregiver education play in your community engagement, especially as it relates to recruitment and retention?
Dr. Mary Guerriero Austrom – I Never Ask for Anything Until I Give First: Caregiver education has really been kind of a bedrock for us. All the activities we've done with the CAB, the Alzheimer's Association, with Central Indiana Council on Aging, anyone I partner with always starts with us going in and giving families education, bringing materials and answering their questions. Way before I make an ask that I need your help with something, I'm always giving first; then, I'll ask. Education is what you'd call my gift to the community. I've done hundreds of presentations on my own or with colleagues. And, education's been shown, especially the psychosocial educational models where families get some support, some education materials and interventions, to do as much at reducing caregiver stress as a medication does.
I've really built a research career in that area (nonpharmacological interventions). It's like behavioral intervention where we can change not necessarily a patient's behavior, but a caregiver's behavior. I can't change the fact that your patient is wandering, right? They wander, it's part of it – AD. I can certainly teach you to understand the wandering and I can usually help you respond better. I can impact the way you interpret the wandering. That's a lot of psychosocial education. That's one type of intervention. There are all sorts like art therapy, music therapy, pet therapy, massage therapy, essential oils, dietary interventions, exercises, yoga and other eastern therapies, and there is more and more research on these types of interventions. So, well done controlled studies are showing positive benefits. I'd say moderate to decent effects. Nothing is working 100% to say wow, or behaviors have disappeared because of that – not so. But a lot of behavioral issues are managed and intervened well enough that the patient is safe and active, and the caregiver is sane.
Our training is comprehensive. We've developed many training manuals of program and protocols to follow. We've been doing this work for well over 20 years. It's a lot of work, but the good will that we have built and the commitment of this community to keep working with us is also something I've never seen.
As a part of your outreach to the community, are you educating the doctors? – How is that pipeline that you're working on of students to increase diversity in the community and school affecting your outreach, recruitment and retention of minorities?
Dr. Mary Guerriero Austrom – Paying it Forward and Giving Back: Remember, I teach at a medical school, so I always do dementia education with our residents, and with our medical students that rotate through the clinics. We have geriatric psychiatry fellowships, geriatric medicine fellowships, so we are constantly training physicians, scientists, etc. Then we have the Martin Family Caregiver Symposium and Memory University every year where certainly our families and research subjects and anyone involved in the Center are welcome – we do it for them. We never ever close our doors – our community providers, nurses, social workers, physicians, physician assistants, anybody working in the field and particularly a lot of long-term care, assisted living and adult day people and personnel will come to those programs. We always offer them free of charge.
If we are going to do a community event and a memory screen, I always bring my African-American medical students and my Hispanic medical students. They have such a positive impact on the community because our African-American community is so proud of their young people that make it. And, in those wonderful people in the faith community, they want to help them and take them under their wings. Some of the students of color may not have had support and struggled to get as far as they've gotten so it's uplifting to these young people. The African-American student group invited the CAB to talk at one of their general meetings. I always invite students to my house for dinner. I'll bring in my community advisers, drag all my black physician friends to make sure there are people of color from the community that they should meet. They need to see people who look like them. It is so beneficial. It is so powerful to the students.
Your program is so well integrated. I just was not aware of all that's happening. Some people see it, but others are just not as aware.
Dr. Mary Guerriero Austrom – Motivating People To Get Involved in Research – CARE: In 2007 or 2008, some of us in the field did a day long symposium on Minority Outreach; I'd gotten a grant to facilitate this wonderful day, had national speakers and we even published the proceedings in a special issue of a journal. So, the work is being done in very successful pockets, but nobody has the bigger picture. We don't get the same kind of splashy coverage that finding this particular drug (would get) – everybody's all over that – but finding a model to work with the community to build trust is not as sexy, I guess. It doesn't get the kind of coverage where people talk about this kind of social science research and understanding the mechanisms of volunteering, understanding the motivations of people to get engaged in research that is so fundamentally important to the success of the research enterprise. I have a slide I usually end my talks on; it's probably 20 years old. "Just because there isn't a cure for AD yet, doesn't mean we don't care." Even if we found the cure tomorrow, or this afternoon we find something that alters the development, the progression of AD, there's 5 – 6 million people out there that still are going to need care. This new preventative isn't going to change the course, and what do we do with those people and caregivers today?
– Karen Y. Durgans, Impact Producer