On a beautiful summer day in late August, 2018, I stood on a hill overlooking Moon Beach Camp located near St. Germaine, Wisconsin. With me was a person I'd just met, a local pastor of two small churches who had agreed to volunteer for what I believe was the first residential camp experience in the US for people with dementia and their families. We chatted for about 45 minutes before a car pulled up. Our first campers! We directed them down to the camp Lodge where other volunteers and camp staff signed them in and helped them get to their cabins.
Memory Camp had begun!
Soon, campers in other cars arrived. We greeted and directed them, all the time feeling tremendous respect for the courage it took to drive three to four hours to a place they'd never been for an experience they'd never had.
As I directed campers to the Lodge, I hoped they would feel like they could leave worry about their dementia diagnosis and associated stigma at the top of the hill.
In all, we had 24 campers ranging in age from 5 to 95. There were five families, each having at least one individual with dementia. One family group consisted of seven siblings, three of whom have dementia. Another couple brought two grandchildren (ages 5 and 8) and their two daughters. One couple came with their three adult children and jokingly remarked that they hadn't all shared a bathroom for about 50 years! Some of the adult children had to take time off from work and travel quite a distance to get to the camp to join their parents and siblings.
Each family had its own cabin with several bedrooms, a full bathroom, an extra sink, and an ample living area with easy chairs, tables, and lamps. Some had screened porches while others had decks overlooking the lake. This camp is well outfitted for people with physical challenges as several cabins have walk-in showers and many have ramps.
We selected this location for the first Memory Camp because we knew that the staff had considerable experience operating camp sessions for children and youth with autism and their families. Although the two disabilities are different, we identified some similarities in terms of caution about over stimulation, care with way finding, and sensitivity regarding selection of activities.
Along with camp staff, there were five volunteers as well as a documentary film crew consisting of four people. The film is being produced by 371 Productions whose mission is to make media for the common good. We hope it will inspire others to design and offer Memory Camps.
Every morning in the dining hall, each table had copies of a camp "newspaper" describing the day's activities. They included beach yoga, rides on a pontoon boat, painting tiles in the craft building, all-day campfires, swimming and fishing, and other typical camp activities. We were fortunate to have Anne Basting join us one morning to lead us in imaginative play focused on the sights, smells, sounds, tastes, and feelings of camp. Of course, we had s'mores and lots of singing!
Memory Camp lasted for three nights and two full days. Campers agreed that was a good amount of time and we hope to replicate that next summer. Some suggested that it would be helpful to schedule times for care partners to talk with one another while their loved ones participate in an activity and we plan to include that next year.
I'm sure every family, volunteer, film crew member, and staff person has a few vivid images of our time together. Some of my own memories include watching a woman relax and enjoy seeing her husband fully engaged with other men solving a jigsaw puzzle, seeing the smiles of elderly campers when the children enthusiastically rang the dinner bell, observing a volunteer sit quietly with a camper by the lake while his wife participated in the beach yoga, and chatting with adult children who could enjoy just being with their parents free from their usual worries.
My husband, John, and I were inspired to develop Memory Camp because of the work of Dementia Adventure, an organization in the UK that conducts sailing trips, week-long holidays, and regular strolls through parks for people having dementia. We hope more camps in the US will adopt the Memory Camp model and are willing to talk with anyone considering this.
Susan McFadden                                                                                                                                                          Ph.D. Professor Emerita, Psychology, University of Wisconsin Oshkosh,                                                                          Research Consultant, Fox Valley Memory Project                                                                                Susan.h.mcfadden@gmail.com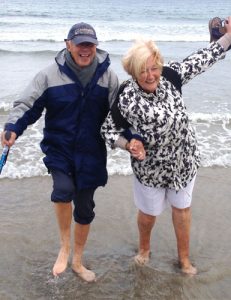 Photos courtesy of Dementia Adventure UK