Spotted on the Illinois Wesleyan University's web page:
"Know someone affected by Alzheimer's Disease? Are you interested in spreading awareness to the community about its debilitating effects? Even if you have the slightest curiosity about Alzheimer's and its prevalence in our country, join this organization! Unfortunately, this is a disease that anyone can get, so we want to share information about it and help others take precautionary measures to lower their risk of developing it.  We have opportunities . . . to volunteer, fundraise, and communicate with members . . . with the goal of educating others and sharing empathy for those who are suffering."
Who would put forth such a gallant call to action? It's a new chapter of a larger organization that's harnessing the energy and ingenuity of young people called the Youth Movement Against Alzheimer's (YMAA). The organization has twelve fledgling chapters at colleges, universities, and high schools across the U.S. and has its sights on growing. Why?
A look at Co-Founder Nihal Satyadev's Twitter page provides some clues:
"#endalz | For my grandmothers | CEO & Co-Founder @youthagainstalz | Bridging Generations"
Both of Satyadev's grandmothers have dementia and one has a diagnosis of Alzheimer's disease.  One was diagnosed when Satyadev was in his teens. His grandmothers both live in India and his parents live in the U.S.  "The hard part is seeing what my parents are going through," he said in a recent conversation. Satyadev currently attends the University of Redlands in Colton, California, and he believes research is the most powerful tool to finding a cure. He has his sights on medical school. The Youth Movement Against Alzheimer's is a not-for-profit organization providing opportunities for students to advocate, research, and provide care to those with Alzheimer's.
Getting the non-profit started centered on the idea that with the numbers of people with the disease growing, there is going to be an economic impact in this country. Satyadev sees it as a "huge fiscal crisis" that we risk not being able to recover from.  More importantly, he adds, "There was nothing being done to get my generation involved in solving this." He believes it is very important that his generation is part of the solution.
YMAA has two key areas of focus. The first is YouthCare. This is an inter-generational respite care program that launched on February 13, 2018 in downtown Los Angeles. Respite care is provided twice a week for three hours. This program evolved from an evidence-based, grant-funded program run by Satyadev and his team for more than two years called TimeOut@UCLA. The program pairs students with a person in early stage Alzheimer's disease for two sessions each week in a dementia-friendly venue. It ensures a safe environment by providing clinical oversight for all student-older adult pairs. A key difference with YouthCare is that it is not grant-funded; the cost of the program is $15 per hour.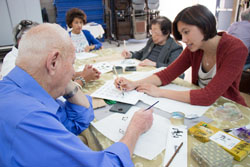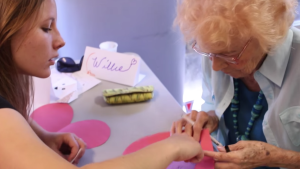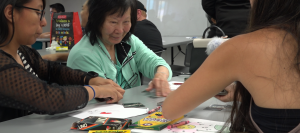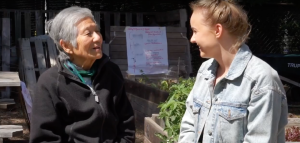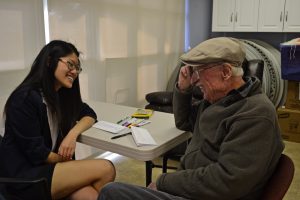 The second area of focus is advocacy. YMAA's approach to advocacy is geared at starting chapters at the high school and undergraduate college level nationwide to advocate for Alzheimer's disease. There are currently 12 chapters across the U.S. Membership is based on a fee payed to YMAA and in return, the school receives a syllabus that provides content to promote the Youth Movement Against Alzheimer's at the school. The mission of the youth advocacy is to redefine Alzheimer's advocacy by giving it a new, younger face. This brings in a new and powerful voice to advocacy for Alzheimer's. It also widens the spectrum of people who care about the disease and helps reduce the stigma that still surrounds it. Satyadev believes it is important for his generation to advocate for people who "don't really have time to advocate for themselves."
Visesha Kakarla is one of those advocates. She is an undergrad at UCLA. Kakarkla is a neuroscience major with a minor in global health, but her involvement in Alzheimer's goes back to high school. There is no one in Kakarla's immediate or extended family with Alzheimer's disease or dementia, but many of her classmates in high school were impacted and that had an impact on her. As a result, she volunteered in high school at a memory care facility that was part of senior living home in Northern California. Many residents with Alzheimer's in the facility were in the later stages of the disease. They were often alone and did not have frequent visitors. Kakarla visited the home once a week to spend time with them. Activities consisted of arts and crafts, playing games or puzzles, and small exercises. This experience inspired her to join TimeOut@UCLA in college.
She volunteered in high school because she "wanted to learn what it meant to have Alzheimer's and to be a caregiver."  Her direct interaction with people with the disease "really changed and added to my perspective." She believes that many people with the disease are misunderstood. "They, like all of us," she said, "need a human connection and companionship."
Kakarla is committed to reducing the stigma that she still sees in our society in relation to Alzheimer's and dementia. She now has a leadership position at TimeOut@UCLA as the program director, assisting with the recruitment and processing of student volunteers. Recruitment has not been a challenge because many students are touched by the disease through a grandparent or other relative. On campus "students are passionate to do something" and want to be part of the solution to reduce stigma.
Satyadev and Kakarla are leading the way for their generation, which bolsters the larger movement.  TimeOut@UCLA has provided 1407 hours of respite care in its short existence. Youth Care has just launched. The current estimate of involvement in the Youth Movement Against Alzheimer's is 700+ strong. Satyadev is optimistic and committed to increasing that number. He says, "Awareness is where it starts. People's perspectives change once they understand what you're advocating for."
–Therese Barry-Tanner, Lead Producer