Keith Fargo, Director of Scientific Programs and Outreach for the Alzheimer's Association and Kimberly Mueller, a researcher for the Wisconsin Alzheimer's Institute were two keynote speakers at a community science and education event hosted by the Miami Valley Chapter of the Alzheimer's Association in Dayton last week. A short work-in-progress clip from Will I Be Next? kicked off the event by offering participants a glimpse into the world of Alzheimer's disease research.
Dr. Fargo, who manages the Alzheimer Association's scientific publications including the Alzheimer's disease Facts and Figures, brought the audience up to date on AD research. He summarized progress on several important studies, including the A4 study, which is being conducted at 67 sites across the county.
Kimberly Mueller, MS, summarized key findings from the Wisconsin Registry for Alzheimer's Prevention, including lifestyle factors that may be helpful in building resilience to the disease. Some of the factors she shared included the WRAP team's research into controlling diabetes, and the impact of exercise, sleep, and socialization on resilience.
Both speakers emphasized the importance of getting involved in clinical trials. Dr. Fargo, who leads the Alzheimer Association's innovative TrialMatch® program, invited participants to fill out a card to learn more and possibly get matched up with a trial.
Then a panel of research doctors from the Dayton and Cincinnati region spoke about their studies, challenges, and observations. The panelists were: Neurologist Dr. Lawrence Goldstick from the University of Cincinnati College of Medicine, Dr. Meenakshi Patel, Principal Investigator for Valley Medical Research in Centerville, Ohio, and Dr. Kenneth Pugar, President and Founder of Dayton Center for Neurological Disorders. All three are integral to the Ohio Valley's universities – Wright State University, University of Cincinnati, Ohio University, and hospital residency programs.
Dr. Larry Lawhorne moderated the panel. Dr. Lawhorne is Chair of the Geriatrics Department at Wright State University's Boonshoft School of Medicine, and he sits on the board of the Miami Valley Chapter of the Alzheimer's Association.
The audience raised many key questions, including the impact of culture of Alzheimer's disease outcome and care.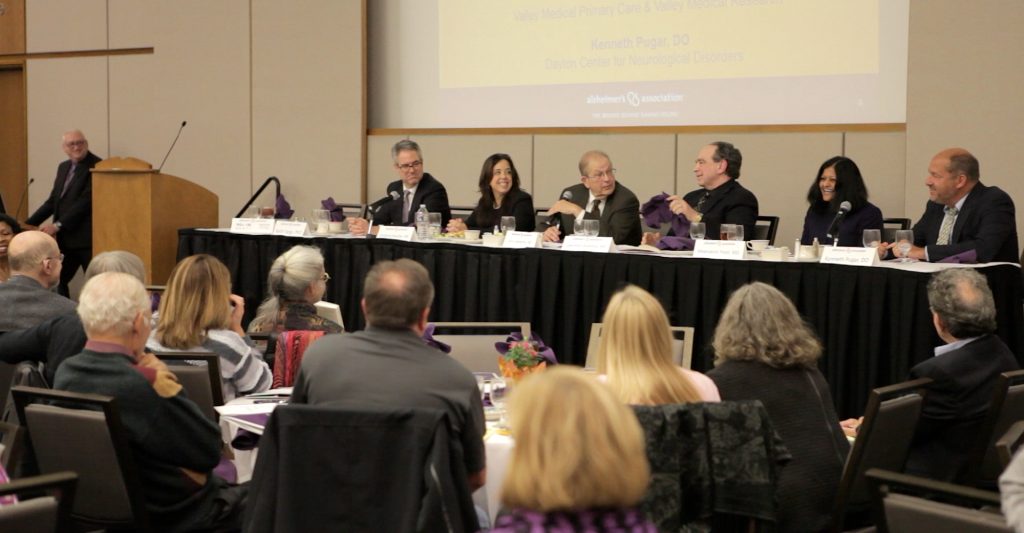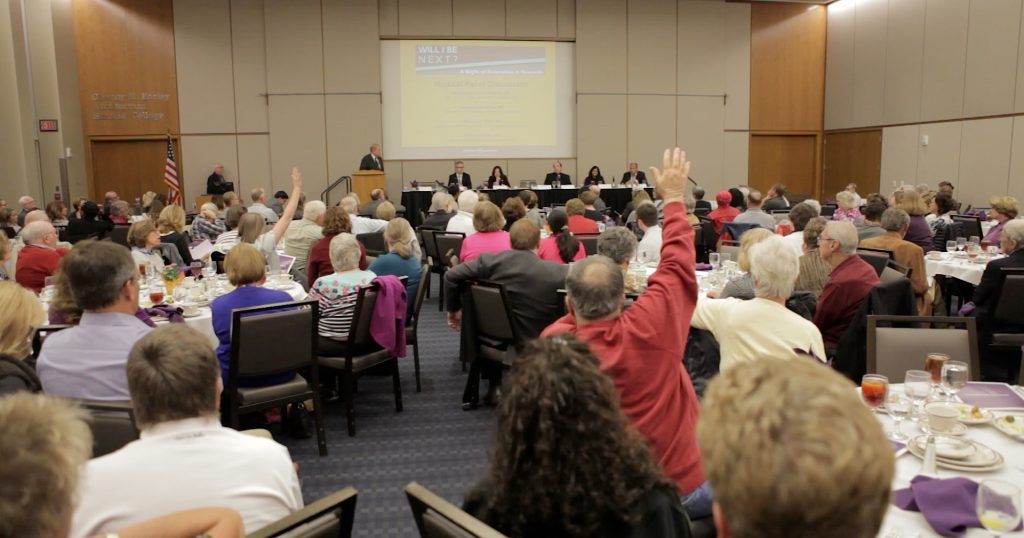 The evening included the opportunity to participate in a dementia simulation experience and a music video titled Love You All Over Again by local recording artist Cassandra Joy.
The evening was conceived and directed by Jerry Mallicoat, V.P. of Outreach and Advocacy of the Alzheimer's Association Miami Valley with support of Executive Director Eric VanVlymen and a dedicated staff.
Almost 200 participants now have new knowledge and power in their hands that may be used to help turn the tide in their families and communities.
Will I Be Next? is grateful for the opportunity to utilize a work-in-progress short film clip for such a vital purpose at such an emotionally powerful event.
Thank you, participants.
Thank you, Miami Valley Alzheimer's Association!
–Melissa Godoy, Director